Meet Rebecca Ellis Onyett, better known as the creative behind REO Jewels. A 27 year old british gal spreading her badass jewels amongst East Londoners.
Tell us a bit about yourself (brand/ creative director). Where are you from? How old are you?
My name is Rebecca Ellis Onyett which is where REO comes from. I am 27 years old born and bred in England. Studied my degree in silver and goldsmithing at UCA Rochester Kent.
When was "REO Jewels", the brand, born? What drove you to start?
I always knew I wanted to be my own boss.
After my degree finished in 2012, I began working for the jeweller Shaun Leane; who taught me a lot about running your own business. In my spare time, I was still making and doing the "odd road-show" here and there. Sometime in 2015 I felt I was ready to take the plunge and I became self-employed. I have never looked back.
Where do you get your inspirations for your designs?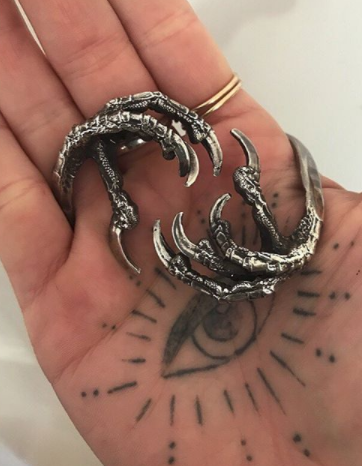 Nature is my biggest inspiration, I love organic shapes and textures.
Having said that, I do get inspired by anything.The first thing I look at when I meet someone is how they wear jewelry, how its arranged and placed on their body. I also love antique jewelry and going to antique fairs or museums to look at pieces that have survived the age of time. I'd like to think one day maybe one of my works might end up in a museum.

How would you explain the style/ motto of your designs/ collections? Is there a specific personality that fits best in your designs?
I like my pieces to have a vintage feel and for them to be timeless. I really love how nature is beautiful but also deadly, kind of like a women not to be reckoned with, this idea plays in some of my woodland collection with the rose thorns and brambles.
I also love the idea of adorning pieces that mean something personal to the wearer. Different bones or teeth from various animals depict certain feelings or emotions for different people. It's like wearing your spirit animal, which again goes back to our tribal ancestors who would wear jewellery as a way of showing their status.
What's the hottest item this season?
Definitely the new sea urchin and opal ring! Part of the new beach collection, ta-dah 😊
In your opinion, what works best to make a brand like yours more successful?
You must be super driven and super passionate about it. I literally live and breathe my work. It's a huge part of who I am. My pieces are like my babies that I've nurtured, watch grow and flourish.

We know that you showcase your pieces at Broadway Market on Saturdays and WE LOVE it. What's next? What are your future plans for the brand?
Broadway market is so great and for now I am super happy just selling via there and online. However, I do now live in Margate and would love to have a summer pop up shop here and in the future a permanent spot.