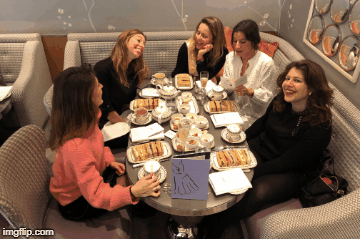 The hottest and most awaited exhibition of 2019 (at least for the fashionistas out there) has opened at the V&A. Yup, that's Christian Dior, designer of Dreams.
Tickets for the exhibition were almost sold out (if not completely, by the time you read this), and as the city surrenders to all things Dior, we decided to embark ourselves in an afternoon of tea, coffee, friends, fashion and Dior, a lot of Dior.
As we arrived to The Berkeley Hotel, known for its fashion 'Pret-a-Portea', we instantly felt we were entering a princess' dream. Name tags and Dior sketches were all over our table, and we were greeted with Dior-themed lattes. Fantasy level was ON.
As expected, as any good afternoon tea goes, the procession of food started and MY OH MY, it was delicioso. Plentiful of tea sandwiches (I believe up to 6 different flavours) and a few savoury treats preceded what we were all wanting: the Dior cakewalk. A collection of cakes and fancies from Dior's most iconic pieces. It was so beautiful we couldn't contain our excitement. OK, the coffee, the champagne and the company may have helped.
But in any case, if you are out and about in the city, this afternoon tea is one of a kind adventure, on that you shouldn't miss. It's a bit on the pricey side (£60 or £70 per person, depending on whether you want bubbles or not), but it is most certainly worth it.
As Mr Dior himself would say: "Don't buy much but make sure that what you buy is good."
TCB xx